Giant Bike Size Guide

Sizing Guide for Giant Bikes
General Guidance:
It is possible to ascertain a close approximation of the correct bike size required using the simple calculation below. However, please be aware of height, for example someone who is 6ft with a 30" inside leg versus someone who is 5ft with a 30" inside leg may need a larger frame because their body would be longer. The bigger the frame size, the longer the top tube.
The calculation that can be used to estimate your required frame size are below:
(N.B. All these measurements are a guide and Giant recommends that to get a proper idea of correct size it is best to physically sit on a bike at a local Giant dealer).
Take the inside leg measurement to the floor. Subtract 3" for mountain bikes, or 1" for road bikes, then subtract 10" which is the average distance from the bottom bracket to the ground. This will then give the approximate frame size that will be needed.
Contained in the following tables are further guides for sizing on different Giant models: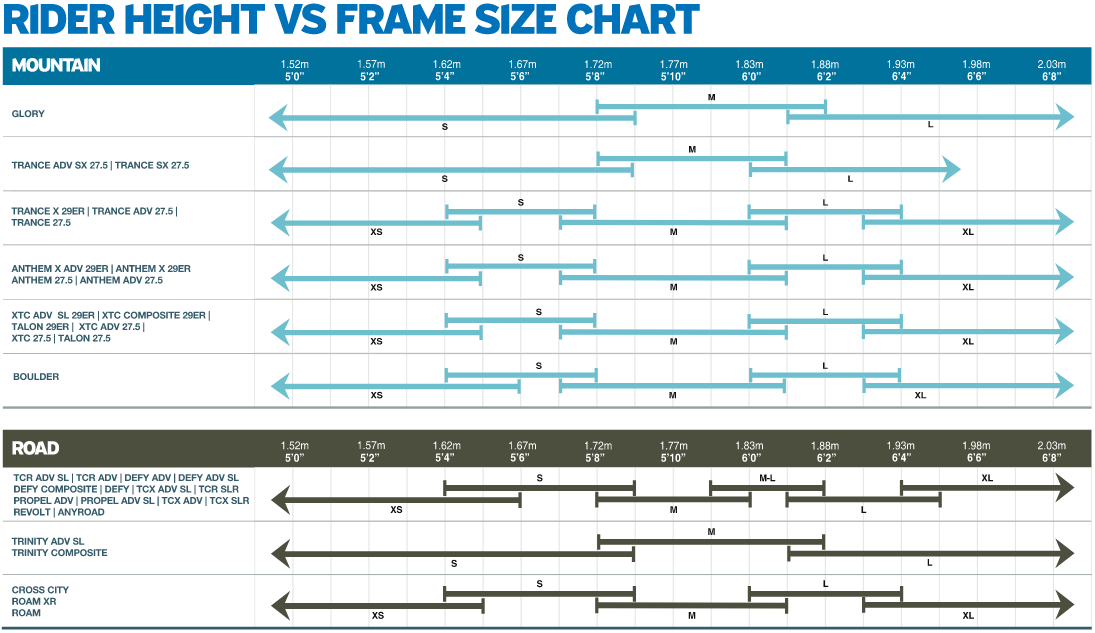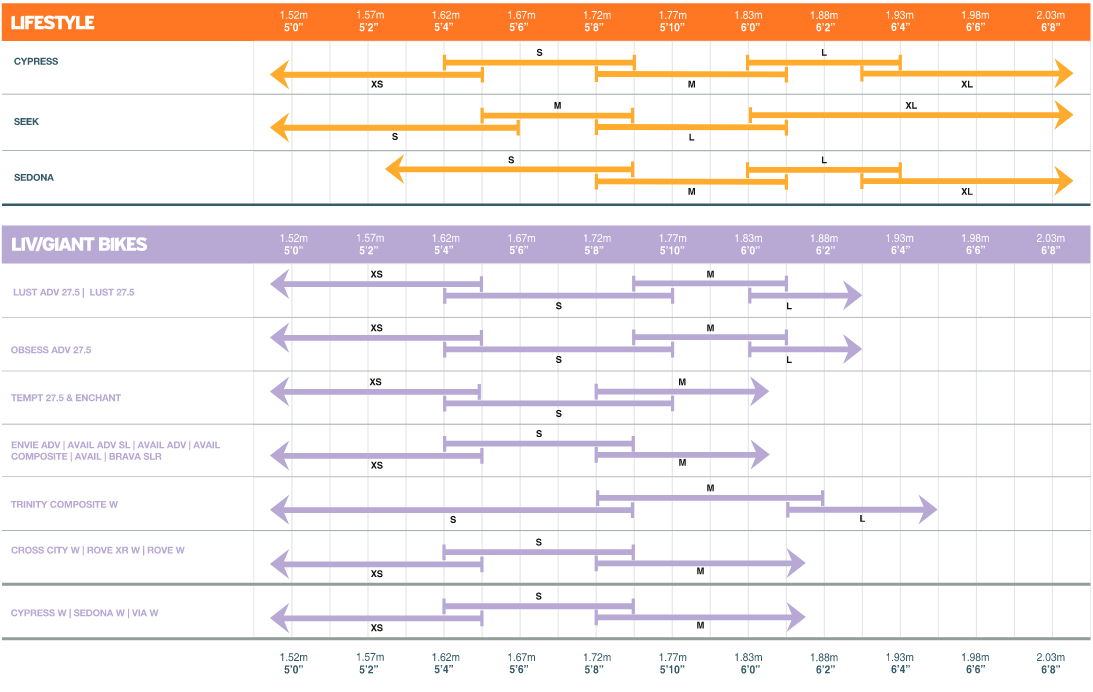 TCR Sizing
| | | | |
| --- | --- | --- | --- |
| Size | Measurement | Approx height range | Top tube length |
| XS | 42cm | 4ft 11 – 5ft 2 | 515mm |
| Small | 46.5cm | 5ft 2 – 5ft 6 | 535mm |
| Medium | 50cm | 5ft 6 – 5ft 9 | 555mm |
| Medium/ Large | 53.5cm | 5ft 9 – 6ft | 570mm |
| Large | 55.5cm | 6ft – 6ft 3 | 585mm |
| XL | 58.5cm | 6ft 3 – 6ft 7 | 610mm |
OCR Sizing
| | | | |
| --- | --- | --- | --- |
| Size | Measurement | Approx height range | Top tube length |
| XS | 48cm | 4ft 11 – 5ft 2 | 515mm |
| Small | 51cm | 5ft 2 – 5ft 6 | 535mm |
| Medium | 54cm | 5ft 6 – 5ft 11 | 555mm |
| Large | 57cm | 5ft 11 – 6ft 3 | 575mm |
| XL | 60cm | 6ft 3 – 6ft 7 | 595mm |
SCR Sizing
| | | | |
| --- | --- | --- | --- |
| Size | Measurement | Approx height range | Top tube length |
| XS | 43cm | 4ft 11 – 5ft 2 | 510mm |
| Small | 46.5cm | 5ft 2 – 5ft 6 | 530mm |
| Medium | 50cm | 5ft 6 – 5ft 11 | 550mm |
| Large | 55.5cm | 5ft 11 – 6ft 3 | 575mm |
| XL | 58.5cm | 6ft 3 – 6ft 7 | 600mm |
FCR Sizing
| | | | |
| --- | --- | --- | --- |
| Size | Measurement | Approx height range | Top tube length |
| XS | 42cm | 4ft 11 – 5ft 2 | 520mm |
| Small | 46.5cm | 5ft 2 – 5ft 6 | 535mm |
| Medium | 50cm | 5ft 6 – 5ft 11 | 550mm |
| Large | 55.5cm | 5ft 11 – 6ft 3 | 575mm |
| XL | 58.5cm | 6ft 3 – 6ft 7 | 600mm |
Mountain Bikes (Hardtail)
| | | |
| --- | --- | --- |
| Size | Measurement | Approx height range |
| XS | 14" | 4ft 11 – 5ft 2 |
| Small | 17" | 5ft 2 – 5ft 6 |
| Medium | 19" | 5ft 6 – 5ft 11 |
| Large | 21" | 5ft 11 – 6ft 3 |
| XL | 23" | 6ft 3 plus |
Mountain Bikes (Full Suspension)
| | | |
| --- | --- | --- |
| Size | Measurement | Approx height range |
| Small | 16.5" | 5ft 3 – 5ft 6 |
| Medium | 18.5" | 5ft 6 – 5ft 11 |
| Large | 20.5" | 5ft 11 – 6ft 2 |
| XL | 22.5" | 6ft 2 plus |
Children's Bikes
| | |
| --- | --- |
| Size | Approximate age range |
| 12" | 2-4 years |
| 16" | 4-6 years |
| 20" | 5-7 years |
| 24" | 7-9 years |