10% Off Your Next Order - Use Code:

SAVETEN

At Checkout*

T's & C's Apply: Excludes Specialized, Bikes, Loyalty Discounts & Any Other Offers. Minimum Order £100 (Approx €114).
My Settings
Select your browsing options below
SUSPENSION BIKE SEAT POSTS
---

HOME
▶
Components
COMPONENTS

▶
Seat Posts
SEAT POSTS

▶
Seatposts- Suspension
SEATPOSTS- SUSPENSION

▶
ORDER BY:
BEST SELLERS

ITEMS PER PAGE:
30

Revolutionary Design Allows 18mm Of Vertical Compliance.

Specialized S-works Cg-r Carbon Seatpost
Product ID: (71537)
Cushion Road Shocks With This Great Value Sprung/elastomer Seatpost.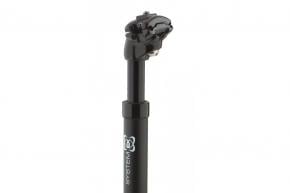 System Ex Suspension Seatpost El
Product ID: (9021)
£21.99
SRP: £26.99
YOU SAVE 18%