My Settings
Select your browsing options below
75999
Giant Liv Langma Advanced Pro 1 Womens Road Bike Small Only
2,212.00
2,765.00
-20
Giant Liv Langma Advanced Pro 1 Womens Road Bike Small Only
NOW:
NOW:
£
2,212.00
2,212.00
Cyclestore.co.uk is a long-standing UK stockist and dealer of Giant bikes. We carry the full range of Giant Road and Mountain Bikes as well as clothing and accessories. To find out more about the full Giant range at Cyclestore.co.uk, visit the Giant Bikes homepage
here
.
THIS FEATHER-LIGHT RACING BIKE DELIVERS THE SPEED AND STRENGTH NEEDED FOR ANY CLIMB RACE OR RIDE.
The Langma Advanced Pro is engineered for aggressive climbing descending and accelerations. The frame's slender tubing creates an extremely fast and lightweight racing machine while the downtube thickens as it approaches the PowerCore bottom bracket for pedaling stiffness strength. With Liv's 3F Design Philosophy and cutting-edge lightweight aerodynamic innovations Langma Advanced provides the winning advantage for every effort from long hilly races to fast-paced criteriums.
Key Performance Factors
LIGHTWEIGHT
The compact Advanced Composite frame slender tubing and stiffness tuned for the female rider is a serious climbing weapon.
AERO-FEATURES
Combining innovative tubing design with the Flux stem to slice through the wind without sacrificing weight or stiffness.
PRECISE HANDLING
This climbing weapon can tackle the return descents or any technical flat corner with appropriate lateral stiffness.
Why We Love It
Langma Advanced Pro is handcrafted for the toughest climbers aspiring racers seasoned competitors and passionate cyclists alike and is the secret weapon for charging the breakaway. Langma Advanced Pro is built to fly up steep grades and long climbs and is fit for endless switchbacks. The slender tubing and light weight combine for quick accelerations so you can conquer the climbs power through flats rail technical descents and attack the group! This bike is a true companion for a determined rider
| | |
| --- | --- |
| Sizes | XXS XS S M L |
| Colours | Charcoal / Ice Green |
| Frame | Advanced-Grade Composite |
| Fork | Advanced-Grade Composite full-composite OverDrive 2 steerer |
| Shock | N/A |
| Handlebar | Giant Contact SL |
| Stem | Giant Contact SL |
| Seatpost | Giant Variant composite |
| Saddle | Liv Contact SL (forward) |
| Pedals | N/A |
| Shifters | Shimano Ultegra |
| Front Derailleur | Shimano Ultegra |
| Rear Derailleur | Shimano Ultegra |
| Brakes | Shimano Ultegra |
| Brake Levers | Shimano Ultegra |
| Cassette | Shimano Ultegra 11x30 |
| | |
| --- | --- |
| Chain | KMC X11SL-1 |
| ***Crankset*** | Shimano Ultegra 36/52 |
| Bottom Bracket | Shimano Press Fit |
| Rims | Giant SLR-1 30 WheelSystem |
| Hubs | Giant SLR-1 30 WheelSystem |
| Spokes | Giant SLR-1 30 WheelSystem |
| Tyres | Giant Gavia AC 1 tubeless 700x25c |
| Extras | RideSense Bluetooth |
***Please note: Some models may come with upgraded Praxis Zayante Carbon crankset due to issues at Shimano factory. Any questions, please feel free to call***

Sizing Guide for Giant Bikes
General Guidance:
It is possible to ascertain a close approximation of the correct bike size required using the simple calculation below. However, please be aware of height, for example someone who is 6ft with a 30" inside leg versus someone who is 5ft with a 30" inside leg may need a larger frame because their body would be longer. The bigger the frame size, the longer the top tube.
The calculation that can be used to estimate your required frame size are below:
(N.B. All these measurements are a guide and Giant recommends that to get a proper idea of correct size it is best to physically sit on a bike at a local Giant dealer).
Take the inside leg measurement to the floor. Subtract 3" for mountain bikes, or 1" for road bikes, then subtract 10" which is the average distance from the bottom bracket to the ground. This will then give the approximate frame size that will be needed.
Contained in the following tables are further guides for sizing on different Giant models: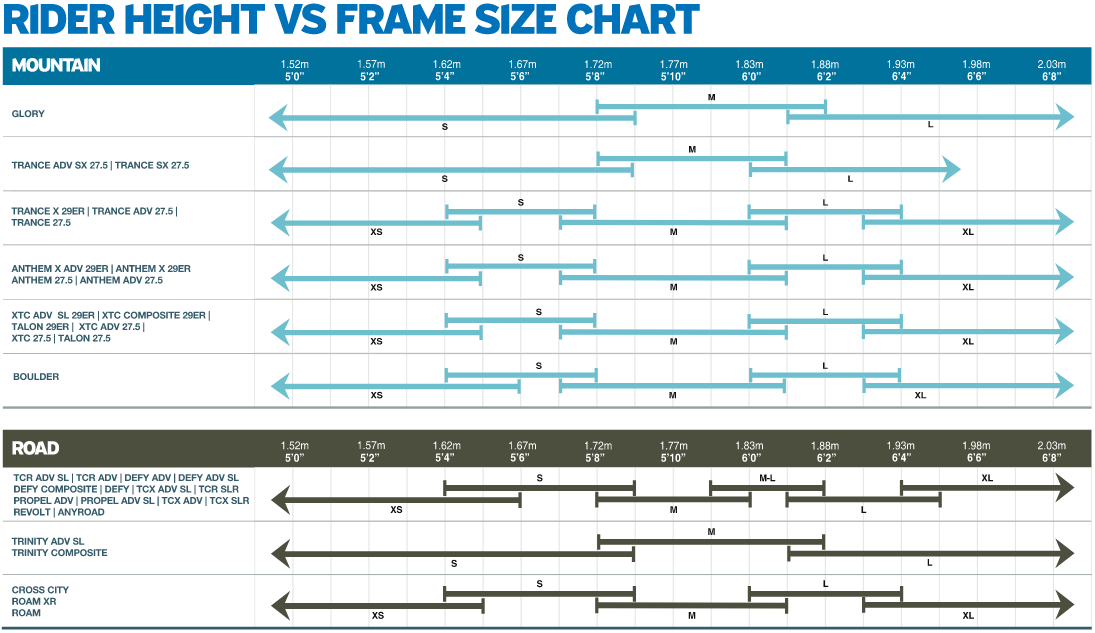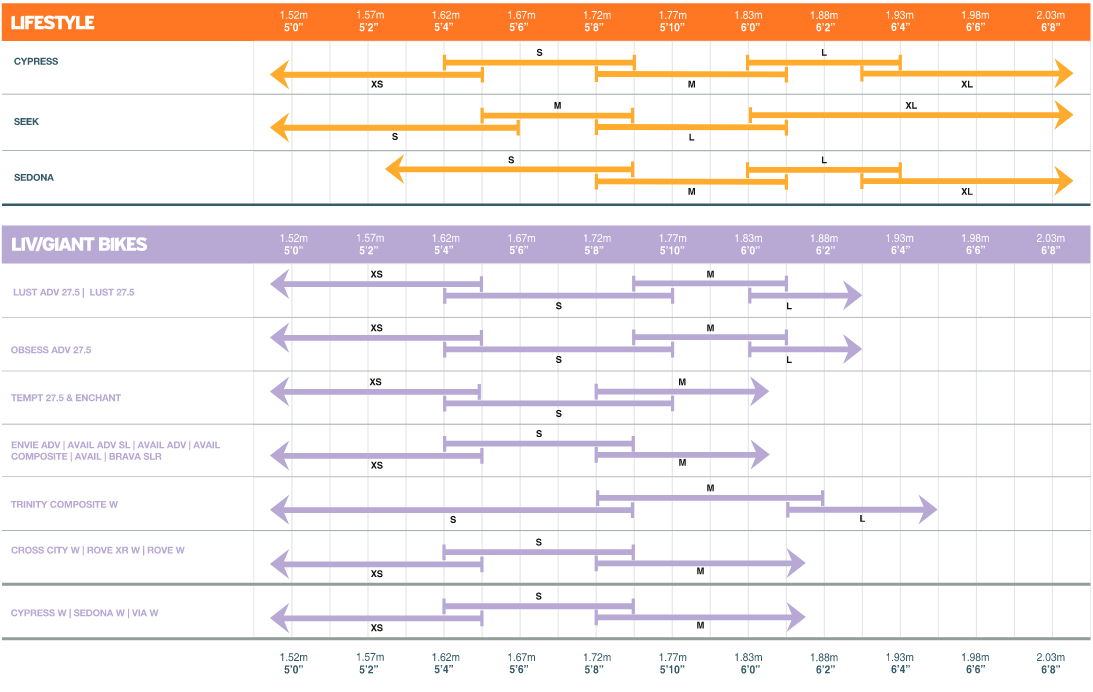 TCR Sizing
| | | | |
| --- | --- | --- | --- |
| Size | Measurement | Approx height range | Top tube length |
| XS | 42cm | 4ft 11 – 5ft 2 | 515mm |
| Small | 46.5cm | 5ft 2 – 5ft 6 | 535mm |
| Medium | 50cm | 5ft 6 – 5ft 9 | 555mm |
| Medium/ Large | 53.5cm | 5ft 9 – 6ft | 570mm |
| Large | 55.5cm | 6ft – 6ft 3 | 585mm |
| XL | 58.5cm | 6ft 3 – 6ft 7 | 610mm |
OCR Sizing
| | | | |
| --- | --- | --- | --- |
| Size | Measurement | Approx height range | Top tube length |
| XS | 48cm | 4ft 11 – 5ft 2 | 515mm |
| Small | 51cm | 5ft 2 – 5ft 6 | 535mm |
| Medium | 54cm | 5ft 6 – 5ft 11 | 555mm |
| Large | 57cm | 5ft 11 – 6ft 3 | 575mm |
| XL | 60cm | 6ft 3 – 6ft 7 | 595mm |
SCR Sizing
| | | | |
| --- | --- | --- | --- |
| Size | Measurement | Approx height range | Top tube length |
| XS | 43cm | 4ft 11 – 5ft 2 | 510mm |
| Small | 46.5cm | 5ft 2 – 5ft 6 | 530mm |
| Medium | 50cm | 5ft 6 – 5ft 11 | 550mm |
| Large | 55.5cm | 5ft 11 – 6ft 3 | 575mm |
| XL | 58.5cm | 6ft 3 – 6ft 7 | 600mm |
FCR Sizing
| | | | |
| --- | --- | --- | --- |
| Size | Measurement | Approx height range | Top tube length |
| XS | 42cm | 4ft 11 – 5ft 2 | 520mm |
| Small | 46.5cm | 5ft 2 – 5ft 6 | 535mm |
| Medium | 50cm | 5ft 6 – 5ft 11 | 550mm |
| Large | 55.5cm | 5ft 11 – 6ft 3 | 575mm |
| XL | 58.5cm | 6ft 3 – 6ft 7 | 600mm |
Mountain Bikes (Hardtail)
| | | |
| --- | --- | --- |
| Size | Measurement | Approx height range |
| XS | 14" | 4ft 11 – 5ft 2 |
| Small | 17" | 5ft 2 – 5ft 6 |
| Medium | 19" | 5ft 6 – 5ft 11 |
| Large | 21" | 5ft 11 – 6ft 3 |
| XL | 23" | 6ft 3 plus |
Mountain Bikes (Full Suspension)
| | | |
| --- | --- | --- |
| Size | Measurement | Approx height range |
| Small | 16.5" | 5ft 3 – 5ft 6 |
| Medium | 18.5" | 5ft 6 – 5ft 11 |
| Large | 20.5" | 5ft 11 – 6ft 2 |
| XL | 22.5" | 6ft 2 plus |
Children's Bikes
| | |
| --- | --- |
| Size | Approximate age range |
| 12" | 2-4 years |
| 16" | 4-6 years |
| 20" | 5-7 years |
| 24" | 7-9 years |