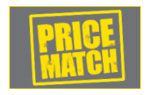 In order for us to get you the best possible price for the item in question we will need to know specific details including:
• Product Name
• Where you have seen the product
• The Product Price
• Your Full Name and daytime contact number
You can send the details of the offer by email, we will accept attatchments of various types including a text file, image, pdf, Website or a scanned article.
Email Us now @ pricematch@cyclestore.co.uk
PLEASE NOTE:
Product must be identical, in stock and available for immediate delivery.
Price match must take into account any shipping charges applicable.
Applies to online retailers only.
Does not include auction websites such as eBay or non-UK based competitors or websites not operating secure (SSL) payment systems.
Excludes discontinued lines.
The price promise can not be applied to our own website.
If a price match brings an order below free postage value, a postage charge may be incurred.
We reserve the right to refuse a price match at any time.