My Settings
Select your browsing options below
73940
Giant Vall-e+ 2 Womens Electric Mountain Bike
1,799.00
2,295.00
-21
Giant Vall-e+ 2 Womens Electric Mountain Bike
NOW:
NOW:
£
1,799.00
1,799.00
Cyclestore.co.uk is a long-standing UK stockist and dealer of Giant bikes. We carry the full range of Giant Road and Mountain Bikes as well as clothing and accessories. To find out more about the full Giant range at Cyclestore.co.uk, visit the Giant Bikes homepage
here
.
EPIC RIDES ARE NOW WITHIN REACH. ACCESS THE MOUNTAINOUS ADVENTURES OF YOUR DREAMS.
Why We Love It
Whether you're looking to ride faster go farther or get your fitness back Vall-E+ will take you beyond boundaries. Reach those mountain peaks and descend to the valleys below. Vall-E+ is a versatile pedal assist mountain bike that can do it all with ease from mountainous adventures to daily cruising. With Vall-E+ it is easier to push at your fitness and reach the peaks with your fastest buddy with a natural feeling battery-assisted pedaling. Explore further and rediscover a passion as you pedal to the tops of longer climbs and gain the thrill of longer descents.
Giant SyncDrive Sport motor with 80Nm torque powered by Yamaha with three levels of speed control: 80% 180% and 300%
Giant SyncDrive Pro motor compatible
100mm/120mm suspension fork to smooth out bumps and bobbles
New side-pull battery and case for easy removal and insertion of battery for charging replacing and storing
2.6" Tubeless Plus tires to increase comfort and stability
Low standover height for ease in getting on and off even on steeper terrain
Mobile app that allows you to see your ride information and upgrade the system
Hybrid Cycling Technology
Designed using Liv's 3F Design Philosophy to build bikes for women
27.5-in wheel size optimizes traction and efficiency
LivRight Sizing Philosophy for the perfect fit across all sizes
Giant PedalPlus 4-sensor Technology for smooth ride across varying terrain
Giant SyncDrive Sport 80Nm central motor powered by YAMAHA
Giant EnergyPak500 lithium-ion battery
SR Suntour XCR 32 LO-R 120mm-travel fork with lockout
Shimano Deore 2x9-speed drivetrain
Shimano M315 hydraulic disc brakes
Colour: Black/Pink/Orange

Sizing Guide for Giant Bikes
General Guidance:
It is possible to ascertain a close approximation of the correct bike size required using the simple calculation below. However, please be aware of height, for example someone who is 6ft with a 30" inside leg versus someone who is 5ft with a 30" inside leg may need a larger frame because their body would be longer. The bigger the frame size, the longer the top tube.
The calculation that can be used to estimate your required frame size are below:
(N.B. All these measurements are a guide and Giant recommends that to get a proper idea of correct size it is best to physically sit on a bike at a local Giant dealer).
Take the inside leg measurement to the floor. Subtract 3" for mountain bikes, or 1" for road bikes, then subtract 10" which is the average distance from the bottom bracket to the ground. This will then give the approximate frame size that will be needed.
Contained in the following tables are further guides for sizing on different Giant models: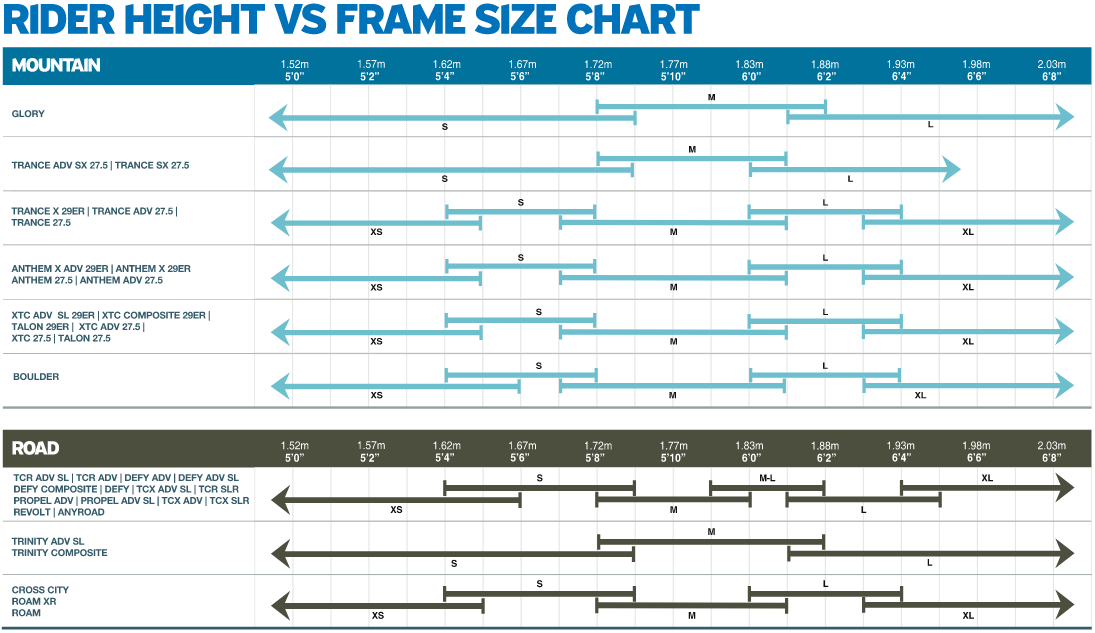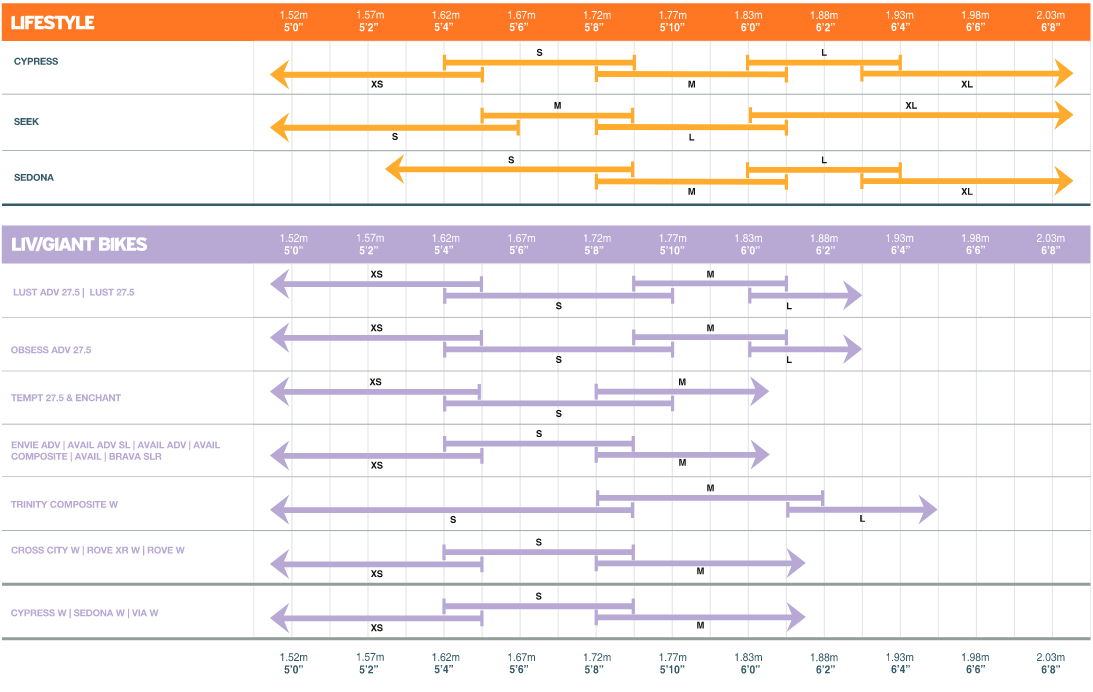 TCR Sizing
| | | | |
| --- | --- | --- | --- |
| Size | Measurement | Approx height range | Top tube length |
| XS | 42cm | 4ft 11 – 5ft 2 | 515mm |
| Small | 46.5cm | 5ft 2 – 5ft 6 | 535mm |
| Medium | 50cm | 5ft 6 – 5ft 9 | 555mm |
| Medium/ Large | 53.5cm | 5ft 9 – 6ft | 570mm |
| Large | 55.5cm | 6ft – 6ft 3 | 585mm |
| XL | 58.5cm | 6ft 3 – 6ft 7 | 610mm |
OCR Sizing
| | | | |
| --- | --- | --- | --- |
| Size | Measurement | Approx height range | Top tube length |
| XS | 48cm | 4ft 11 – 5ft 2 | 515mm |
| Small | 51cm | 5ft 2 – 5ft 6 | 535mm |
| Medium | 54cm | 5ft 6 – 5ft 11 | 555mm |
| Large | 57cm | 5ft 11 – 6ft 3 | 575mm |
| XL | 60cm | 6ft 3 – 6ft 7 | 595mm |
SCR Sizing
| | | | |
| --- | --- | --- | --- |
| Size | Measurement | Approx height range | Top tube length |
| XS | 43cm | 4ft 11 – 5ft 2 | 510mm |
| Small | 46.5cm | 5ft 2 – 5ft 6 | 530mm |
| Medium | 50cm | 5ft 6 – 5ft 11 | 550mm |
| Large | 55.5cm | 5ft 11 – 6ft 3 | 575mm |
| XL | 58.5cm | 6ft 3 – 6ft 7 | 600mm |
FCR Sizing
| | | | |
| --- | --- | --- | --- |
| Size | Measurement | Approx height range | Top tube length |
| XS | 42cm | 4ft 11 – 5ft 2 | 520mm |
| Small | 46.5cm | 5ft 2 – 5ft 6 | 535mm |
| Medium | 50cm | 5ft 6 – 5ft 11 | 550mm |
| Large | 55.5cm | 5ft 11 – 6ft 3 | 575mm |
| XL | 58.5cm | 6ft 3 – 6ft 7 | 600mm |
Mountain Bikes (Hardtail)
| | | |
| --- | --- | --- |
| Size | Measurement | Approx height range |
| XS | 14" | 4ft 11 – 5ft 2 |
| Small | 17" | 5ft 2 – 5ft 6 |
| Medium | 19" | 5ft 6 – 5ft 11 |
| Large | 21" | 5ft 11 – 6ft 3 |
| XL | 23" | 6ft 3 plus |
Mountain Bikes (Full Suspension)
| | | |
| --- | --- | --- |
| Size | Measurement | Approx height range |
| Small | 16.5" | 5ft 3 – 5ft 6 |
| Medium | 18.5" | 5ft 6 – 5ft 11 |
| Large | 20.5" | 5ft 11 – 6ft 2 |
| XL | 22.5" | 6ft 2 plus |
Children's Bikes
| | |
| --- | --- |
| Size | Approximate age range |
| 12" | 2-4 years |
| 16" | 4-6 years |
| 20" | 5-7 years |
| 24" | 7-9 years |